These 6 Laguiole table knives whose handles are made of malachite stone are ornamented with the famous bee and the famous Laguiole en Aubrac logo, they are handcrafted in France in the historical zone of origin. The blades are made of high-quality stainless steel specially designed to maintain a sharp edge, high hardness and excellent resistance to corrosion. The malachite stone used for the handles is also of the highest quality. Laguiole en Aubrac is a traditional Laguiole knives manufactory, which is distinguished as a "living heritage company" for the excellence of its know-how. Due to the unique nature of the materials used for the handles, yours will differ slightly from the one pictured above.
This set of 6 Laguiole en Aubrac steak knives with malachite stone handles will quickly become an integral part of all your dinners and will be the special touch to a particularly elaborate table. The full tang blades are made of high-quality stainless steel and are impeccably sharpened.
The guilloche work on the tang, the riveting, polishing and all the other steps of the knife-making process are entirely done by hand by the famous manufacturer Laguiole en Aubrac, with skilled craftsmen who were trained in the traditional and artisanal methods of making. Each knife will be a pleasure to use for yourself and your guests.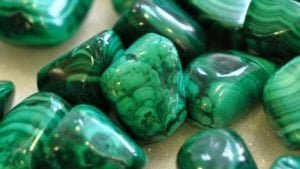 Malachite Stone
This handle is a mixture of malachite stone powder (85%) and resin. It is a material that is much easier to work with than pure stone, which would break at the slightest piercing. Malachite is a semi-precious green stone that forms not too far from the Earth's surface. It was first found in Egypt and Israel around 4000 BC.
Entirely handcrafted with handles made of malachite stone, the famous bee adorns each of these 6 knives. Thanks to its quality and finesse of workmanship, Laguiole en Aubrac effortlessly achieves the perfect balance of respect for tradition with these table knives.
Specifications:- 
Genuine malachite stone handles. Shiny finish.
Blade, plates and bolsters made of 12C27MOD Sandvik stainless steel.
6 high-end Laguiole steak knives.
Blade: 11 cm. Total length: 23 cm.
Chiselled: engraving in steel along the handle.
Characteristic Laguiole bee.
Not compatible with dishwasher.
Handmade from start to finish by a single artisan.
Includes a certificate of authenticity.
Presented in an elegant wooden box.
A lifetime warranty covers any manufacturing defects.
Made in France, Espalion: historical zone of origin of Laguiole knives.